SkinCeuticals

Body Retexturing Treatment

$60.00

© 2012 Brent-Air Pharmacy Inc. All Rights Reserved. 
*
Formulated for dull, rough body zones, this once daily treatment activates skin's regeneration response by promoting exfoliation and providing simultaneous hydration for optimized cellular renewal to retexture rough body surfaces and significantly improve radiance and smoothness. Suitable for all skin types, even on extremely dry, flaky skin.

SkinCeuticals Body Retexturing Treatment - 6.7oz    $60.00

Order by Phone for Pick-Up: (310) 476-2211


Once daily after showering, apply to legs, arms, and other dull, rough body zones. Can be applied after shaving. Body Retexturing Treatment can be used once daily morning or night.

Key Ingredients:

17.7% hydroxyethyl urea/aminosulfonic acid compound: Normalizes epidermal renewal to resurface the skin and replenishes moisture levels critical for even desquamation

4% Niacinimide: A form of vitamin B3. Provides an anti-inflammatory effect

Hyaluronic Acid: This natural humectant is capable of retaining 1,000 times its own weight in water, making it an effective moisturizer. Helps to increase skin's natural moisturizing factor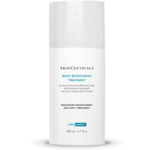 134 S Barrington Av

Los Angeles, CA 90049

310.476.2211 Fax 310.472.8659