SkinCeuticals

Micro-Exfoliating Scrub

$30.00

© 2012 Brent-Air Pharmacy Inc. All Rights Reserved. 
*
Designed for congested and rough skin, this mild exfoliating gel combines natural microbeads with gentle cleansing and hydrating agents to thoroughly cleanse pores and promote healthy cell renewal without damaging or drying skin. It gently exfoliates and polishes away dead skin cells, while softening and smoothing.

SkinCeuticals Micro-Exfoliating Scrub - 150ml    $30.00

Order by Phone for Pick-Up: (310) 476-2211


Apply a small amount of scrub to a damp face. Gently massage for a full minute. Rinse thoroughly with water.

Key Ingredients:

Diatomaceous Earth microbeads: Rich in minerals including magnesium, iron and calcium, this naturally occuring, soft, sedimentary rock gently exfoliates skin and promotes healthy cell renewal

Aloe barbadensis: Widely recognized for its moisturizing abilities, it also offers skin softening, healing, and anti-inflammatory benefits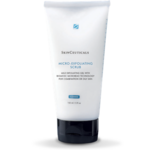 134 S Barrington Av

Los Angeles, CA 90049

310.476.2211 Fax 310.472.8659