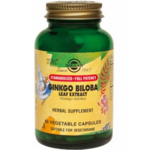 Gingko Biloba Leaf Extract

60 Vegetable Capsules

$15.98

© 2012 Brent-Air Pharmacy Inc. All Rights Reserved. 
*
Backed by ancient use and modern scientific research, Ginkgo Biloba has been shown to promote many functions, including memory (especially occasional mild memory problems associated with aging) and promoting peripheral circulation to the arms, legs and brain.*

Solgar Ginkgo Biloba Leaf Extract - 60 Vegetable Caps   $15.98

Order by Phone for Pick-Up: (310) 476-2211


Amount Per Serving:

Standardized Ginkgo Biloba Extract [leaf]:  90 mg *

Raw Ginkgo Biloba Powder [leaf]:  45 mg *

Serving Size: 1 Vegetable Capsule

SUGGESTED USE:

As an herbal dietary supplement for adults, take one (1) vegetable capsule up to two (2) times daily, preferably at mealtime, or as directed by a healthcare practitioner.


134 S Barrington Av

Los Angeles, CA 90049

310.476.2211 Fax 310.472.8659