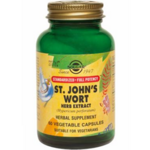 St. John's Wort Herb Extract

60 Vegetable Capsules

$11.98

© 2012 Brent-Air Pharmacy Inc. All Rights Reserved. 
*
St. John's Wort has been used for centuries as a tonic and is clinically proven to promote mental well-being and peaceful mood.*

Solgar St. John's Wort Herb Extract - 60 Vegetable Caps   $11.98

Order by Phone for Pick-Up: (310) 476-2211


Amount Per Serving:

Standardized St. John's Wort Extract [aerial]:  175 mg *

Raw St. John's Wort Powder [aerial]:  300 mg *

Serving Size: 1 Vegetable Capsule

SUGGESTED USE:

As an herbal dietary supplement for adults, take one (1) vegetable capsule daily, preferably at mealtime, or as directed by a healthcare practitioner.


134 S Barrington Av

Los Angeles, CA 90049

310.476.2211 Fax 310.472.8659