No. 7 Joint Support

30 Vegetable Capsules

$24.99

© 2012 Brent-Air Pharmacy Inc. All Rights Reserved. 
*
Shows Improvement in Joint Comfort within 7 days¹*

The next generation alternative after glucosamine that increases mobility, flexibility and range of motion in sensitive joints.* This is a breakthrough formulation of bio-active nutrients that work to create a fast acting approach.*

Solgar No. 7 Joint Support - 30 Vegetable Capsules    $24.99

Order by Phone for Pick-Up: (310) 476-2211


Amount Per Serving:

Vitamin C (as Ester-C®, calcium ascorbate):  100 mg - 167% 

5-Loxin® Advanced (Boswellia serrata Extract [resin]):  100 mg * 

Turmeric Root 4:1 Extract (Curcuma longa) (equivalent to 200 mg of root):  50 mg * 

UC-II® Standardized Cartilage (providing 10 mg Undenatured Type II Collagen):  40 mg * 

White Willow Bark 5:1 Extract (Salix alba [bark]) (equivalent to 175 mg of bark):  35 mg * 

Ginger Root 4:1 Extract (Zingiber officinale) (equivalent to 140 mg of root):  35 mg * 

Pepper Spice Complex Cayenne Powder (Capsicum annuum [fruit]), Bioperine® (Black Pepper Extract) (Piper nigrum [fruit]):  27 mg *

Serving Size: 1 Vegetable Capsule

SUGGESTED USE:

Adults, take one (1) vegetable capsule daily, or as directed by a healthcare practitioner.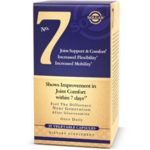 134 S Barrington Av

Los Angeles, CA 90049

310.476.2211 Fax 310.472.8659