Tart Cherry 1000 MG

90 Vegetable Capsules

$27.98

© 2012 Brent-Air Pharmacy Inc. All Rights Reserved. 
*
Tart Cherry (Prunus cerasus) naturally contains polyphenolic antioxidant compounds such as quercetin, chlorogenic acid, and anthocyanins which can help fight free radicals. This formulation provides 1000 mg (1g) of tart cherry in each vegetable capsule, derived from a premium quality 4:1 extract.*

Solgar Tart Cherry 1000 MG - 90 Vegetable Caps    $27.98

Order by Phone for Pick-Up: (310) 476-2211


Amount Per Serving:

Tart Cherry (Prunus cerasus) (fruit) (from 250 mg of a 4:1 extract):  1000 mg*

Serving Size: 1 Vegetable Capsule

SUGGESTED USE:

As a dietary supplement for adults, take one (1) to two (2) vegetable capsules daily, preferably at mealtime, or as directed by a healthcare practitioner.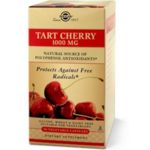 134 S Barrington Av

Los Angeles, CA 90049

310.476.2211 Fax 310.472.8659